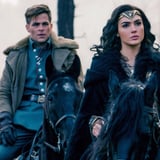 To say Wonder Woman crushed the box office last Summer would be an understatement. Words like "obliterated" or "demolished" are more apt, given the film's record-setting $103.1 million domestic opening and its badass, empowering message. Everyone from Lupita Nyong'o to Chris Hemsworth couldn't help but gush about director Patty Jenkins and star Gal Gadot, so it came as no surprise that the Hollywood gods answered all of our prayers with a sequel. A few awesome details have been released so far, so let's get to it.
The Official Title
In a tweet on June 13, Jenkins confirmed not only the film's exact time period, but also its title: Wonder Woman 1984.
Steve Trevor's Fate
Oh, and her tweet also confirmed another key piece of information: STEVE TREVOR IS ALIVE! Jenkins tweeted, "Welcome to WONDER WOMAN 1984, Steve Trevor!" and included a photo of actor Chris Pine dressed in a Top Gun-esque jump suit and some Forrest Gump-approved sneakers. How is this possible? We're not sure yet, but we have a feeling some weird comic book science might be at play.
The Story
Wonder Woman begins on Diana Prince's home island of Themyscira and later moves to a Europe torn apart by World War I. For the sequel, Jenkins suggested bringing the superhero across the pond. "The story will take place in the U.S., which I think is right," the director told Entertainment Weekly during an interview in June 2017. "She's Wonder Woman. She's got to come to America. It's time." A month later, ScreenRant reported that the sequel will be a period piece rather than set in modern times. In the screenplay developed by Jenkins and DC Entertainment's Geoff Johns, Diana will apparently face off against the Soviet Union during "the closing days of the Cold War" in the 1980s.
While sitting down with Variety in November, Jenkins further elaborated on the broad strokes of the movie. Not only will it bring Wonder Woman to a deeper, perhaps slightly darker place, but she also hinted at another great "love story":
"It's really still going to other values of hers, and a similar formula insofar as making a great, enjoyable fun movie but that ultimately in its third act turns some very big issues, and a very big experience that will aim to have slightly more weight and profundity than it has to have. Because that's a formula that I really like, and I like the idea of taking somebody on a very solid, great journey but that arrives at a bigger question being answered. So it's like that but because she is Wonder Woman and she's here now and she's fully developed, it's got great fun from the start and great big superhero presence from the start, and is funny and a great love story again and a couple new unbelievable characters who I'm so excited about, who are very different than were in the last movie."
The Villain
Rumors that Saturday Night Live alum Kristen Wiig might play classic comic book villain Cheetah were confirmed by Jenkins via Twitter in March 2018. "So excited to confirm the most thrilling news. Yes! It's true!" Jenkins wrote. "So incredibly lucky to welcome the sensationally talented Kristen Wiig to our Wonder Woman family. Can't wait to finally work with one of my favorites. And SO excited by what we have planned. #Cheetah!!! @GalGadot"
In the comics, one of Cheetah's human alter egos is Dr. Barbara Minerva, a British archaeologist who will do practically anything to further her research. One of her jungle expeditions eventually gets her involved in an ancient ritual that transforms her into Cheetah, who has superhuman strength, speed, durability, agility, and senses, as well as claws and fangs.
The Cast
Although we initially assumed Chris Pine wouldn't return as Steve Trevor given how his story ends, now we know that's not the case. Jenkins actually dropped a few hints about how the production team approached bringing him back during an interview with Fandango last year. "All I can say is it was a dilemma," she explained. "It's something I hope we don't talk about in the public [because] I want people to see, but it's very hard to know which characters will be in the next movie because of the time period, so it's a big question."
So, even though he perishes in an explosion in the final minutes of Wonder Woman, we now know for sure that Steve will come crashing back into Diana's life. Has someone in the DCEU brought him back from the dead? Or traveled through time to save him? Given his attire in the photo Jenkins shared, it doesn't look like his role will be limited to flashbacks, but there's always a chance – albeit a slim one – that he's one of Steve's descendants.
Regardless of how they revived Pine's character, leading lady Gadot will definitely be back to kick some ass, and she won't be alone. Game of Thrones and Narcos star Pedro Pascal has also joined the cast in an unknown, but "pivotal" role, according to Variety. As far as other characters are concerned, making the story set in modern times opens up the possibility of a few cameos from other DC characters (even if Wonder Woman only bothers with a single, subtle Justice League Easter egg).
The Director
Unlike Gadot, Jenkins was not contractually obligated to return for the second installment of Wonder Woman since Warner Bros. executives only enlisted her for the one film. We can't imagine a better person for the job, and clearly neither could the studio. In September 2017, Jenkins signed a landmark deal to direct the sequel, with sources telling Variety that her paycheck was in the $8 million range. That would make her the highest paid female director of all time, if true!
The Release Date
Settle in, you guys, because this is going to be a hell of a long wait. Before Warner Bros. can begin working on a sequel for Diana, it has to release Aquaman, due out Dec. 21, 2018. That's why the official date for the sequel isn't until Nov. 1, 2019. Will you be able to hold out that long?